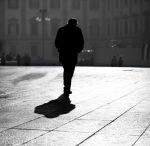 | | | | | | | | | | | | | |
| --- | --- | --- | --- | --- | --- | --- | --- | --- | --- | --- | --- | --- |
| | | | | | | | | | | | | |
Source text in English
There were 3 entries submitted in this pair during the submission phase.

Entries submitted in this pair were rated on a per-segment basis. Listed below are all submitted translations of each individual source text segment.
---
Submitted segment translations
Translations submitted for each source text segment are listed below. Segments have had surrounding punctuation stripped, and the resulting identical segments have been grouped together, so each listed translation should differ, but the difference may be subtle (eg. internal punctuation or diacritics).
| | | |
| --- | --- | --- |
| | Viewing segment # out of 9 | |
---
Source text segment #7

And there's nothing short a' dying
That's half as lonesome as the sound
Of the sleeping city sidewalk
And Sunday morning coming down.

Translations of this segment

(3 total; 3 unique)

En het is als erg als doodgaan Niets is als eenzaam als de klank Van de slapende stad op straat Zondagochtend die jou vergat

En sterven is nog niet half zo eenzaam als het geluid van het trottoir in de slapende stad en de zondagochtend die komt eraan

Alleen je allerlaatste uurtje wordt door minder eenzaamheid verstomd dan een doodse stoep op zondag, als je weer op aarde komt

---
| | | |
| --- | --- | --- |
| | Viewing segment # out of 9 | |
ProZ.com translation contests
ProZ.com translation contests offer a fun way to take a break from your normal routine while testing and honing your skills with fellow translators.
---
---
ProZ.com Translation Contests. Patent pending.